NAKED MEN'S YOGA+TANTRA
with Brandon Anthony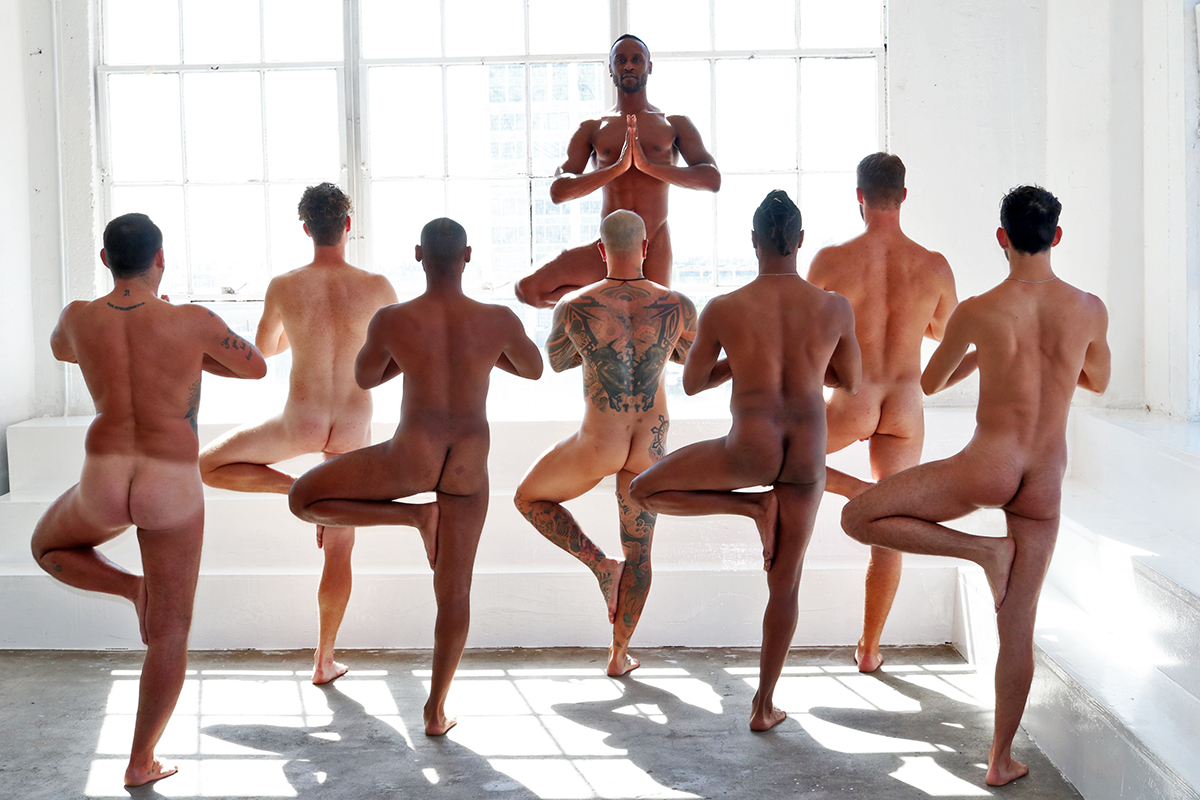 Brandon Anthony's Naked Men's Yoga and Tantra workshops were created as safe space for GBTQ men to release shame and deepen their connection to self and community. These flowing, heat building, and heart opening experiences are about Self Love and Exploration. All are welcome. Come shed your clothes, release your inhibitions, and celebrate every inch of your beautiful self.
WORKSHOP FAQ
Are there ID or minimum age requirements?
All attendees must be 18+. 21+ for cannabis+CBD infused classes.
What do I need to bring to class?
High quality mats will be provided at the LA workshops, but the room does get pretty hot, and you will sweat. You'll want to bring a large towel to cover your mat and clean up with, and it's always a good idea to have your own water bottle if possible. You will need to bring your own yoga mat for any workshop outside of LA. Silicone based lubricant will be made available to share at the Tantric Edging workshops, but bringing your own personal preferred lube is encouraged. This will allow you to get more whenever you need without waiting for the shared bottles to make their way to you.
Is it okay if I'm new to Yoga/Tantra/Movement2Music/Fitness?
Newbies are welcome, but the group Vinyasa Yoga classes flow pretty quickly. If possible, you may want to take a non nude beginners class at another studio or even online before attending.
Is it okay to attend a Tantra Partner Yoga workshop solo?
Definitely! Most people do. You'll be able work with others from the group. Solo attendees will change partners multiple times during the workshop, getting the opportunity to explore multiple connections. Couples will have the option to rotate or work only with each other.
Do I have to fit a certain body type or age to attend class?
Not at all! All shapes, sizes, and ages 18+ are welcome and encouraged to come celebrate themselves. This is judgement and shame free zone. As long as you are fit and healthy enough for an athletic yoga/fitness practice, you will be able to participate. These workshops are open to Cis and Trans Men. Discrimination of any kind will not be tolerated.
Is there sex involved in these workshops?
While there will be no penetration, the Tantra workshops are Sex Positive experiences and sexual activity between consenting adults may take place. You will never be directed to perform a sex act. Each person interacts with the group at their own level of comfort. The Vinyasa Yoga and Naked Fitness classes do not involve any sexual activity.
What if I get an erection in one of the non-sexual classes?
Erections are natural and something to be celebrated, but you are always welcome to drop into Child's Pose if you feel like you need a moment to come down before rejoining the flow.
Are there showers available?
There is a shower, but because of the quick turnover between events, it will only be made available to those who are taking multiple workshops that day. Men attending more than one are welcome to rinse off briefly between workshops, but may want to bring an extra towel. Body wipes will be provided for everyone in attendance.
Will there be a filming/photography?
No photos or video are permitted. We also ask everyone attending to respect the privacy of their fellow participants, and not disclose who was in attendance to anyone outside of the group.
What is the refund policy?
Full refunds are available through eventbrite up to 7 days before any workshop. If you discover you are unable to attend within the 7 day window, you are welcome to gift or resell your ticket. That person will need to have your ticket or confirmation email printed or pulled up on their phone, as well as their ID when they arrive for the workshop. Although there are no exchanges for missed workshops, you may reach out about being placed on the waitlist for the next events in your city. You will be able to use your missed class ticket for any future event of equal or lesser value that doesn't sell out.